Deliver a Net Zero NHS with my mhealth.
We can help your clinical service hit their NHS net zero carbon emissions target using our remote rehabilitation, monitoring and consultation tools to reduce the need for face-to-face clinical interventions, GP and hospital appointments and patient reviews using our digital therapeutics platform.
For a greener NHS, choose my mhealth's digital therapeutics.
Contact us for a greener NHS
Leading by example: We are a Carbon Neutral Business.
We are proud to announce that we have partnered with Carbon Neutral Britain to measure and offset our carbon footprint, to become Certified as a Carbon Neutral Business.
Our carbon emissions have been calculated and offset via the Woodland Fund™ Portfolio of verified carbon offsetting projects around the world, all which contribute to the United Nation Sustainable development goals.
my mhealth is committed to help build a greener planet and make a difference to climate change. This is a great step forward in our continued efforts to further reduce emissions across all aspects of our business.
Find out more about Carbon neutral Britain and the projects we are supporting here.
View our certificate here
my mhealth is committed to help build a greener NHS.
The NHS has set out to achieve net zero by 2040, with an ambition to reach an 80% reduction by 2028 to 2032, and we can help.
In 2020 we delivered 225,000 rehabilitation and education sessions remotely to patients in the United Kingdom saving a potential 1,500,000 miles of transportation, equivalent to saving 465,000 Kg CO2 emissions*.
That's the equivalent of planting over 220,000 fully grown trees.
*Based on an average journey to and from rehabilitation classes of 6.7 miles in a medium size care averaging 46 mpg.
The environmental benefits of my mhealth digital therapeutics.
Explore the multiple ways our digital therapeutics can help the NHS achieve net zero carbon emissions.
Reduce travel emissions
Our platform facilitates remote care and enables proven patient self-management which can reduce emissions caused by patients and clinicians travelling to healthcare centres. Clinical tools such as video consultations and remote monitoring of patient populations reduces the need for regular face-to-face contact and travel.
Reduce hospitalisation
Our aim is to empower patients and clinical teams by providing cutting-edge, evidence-based digital therapeutics that positively impact long-term conditions. By reducing the risk of hospitalisation our platform can decrease the energy consumption by hospitals and GP surgeries.
Did you know?
There are over 300 million patient consultations each year, with an average journey time of 20 minutes. These can contribute nearly 3 MILLION tonnes of CO2e to the NHS secondary carbon footprint.
With my mhealth's digital therapeutics many of these journeys will no longer be necessary, drastically cutting carbon emissions and helping achieve the net zero goal.
A platform packed with the tools to achieve net zero carbon emissions.
The my mhealth platform supports patients living with long-term conditions including COPD, diabetes, asthma, heart disease, cancer, COVID-19 and those preparing for elective surgery. We provide easy access to innovative technologies that can grow a greener NHS.
Inhaler technique training
Correct usage of inhalers can reduce wastage. Our apps provide patients living with COPD and Asthma instant access to instructional videos for every inhaler device (and spacer). Access to these videos has been shown to correct 91% of inhaler errors, a key factor to reduce inhaler wastage.
Video consultations
Reduce travel emissions and the frequency of face-to-face consultations with our online video consultations. Simply arrange a video consultation through one of our apps, such as the HAYA Oncology platform for patients living with cancer, and you'll be able to consult face-to-face with your patients, from the comfort of their own home.
Remote patient monitoring
Our apps, such as the Covid-19 Virtual Ward, enables the remote monitoring of your entire patient population. By identifying the patients most at need, you can reduce the number of journeys made by both patients and clinical teams, and cut the secondary carbon footprint.
Condition specific reviews
Annual reviews for long-term conditions such as COPD and asthma can be carried out completely remotely on the my mhealth platform, further cutting travel emissions. And with the added convenience of remote reviews, your clinicial teams will be able to support even more patients.
Remote cardiac and pulmonary rehabilitation
We delivered 225,000 rehabilitation and education sessions on our platform last year saving a potential 1,500,000 miles of car journeys. Our online pulmonary rehab and cardiac rehab has been proven to be as effective as face-to-face rehab, and with the added benefit of reduced emissions from travelling to sesssions, this single feature can have a significant contribution to reducing carbon emissions.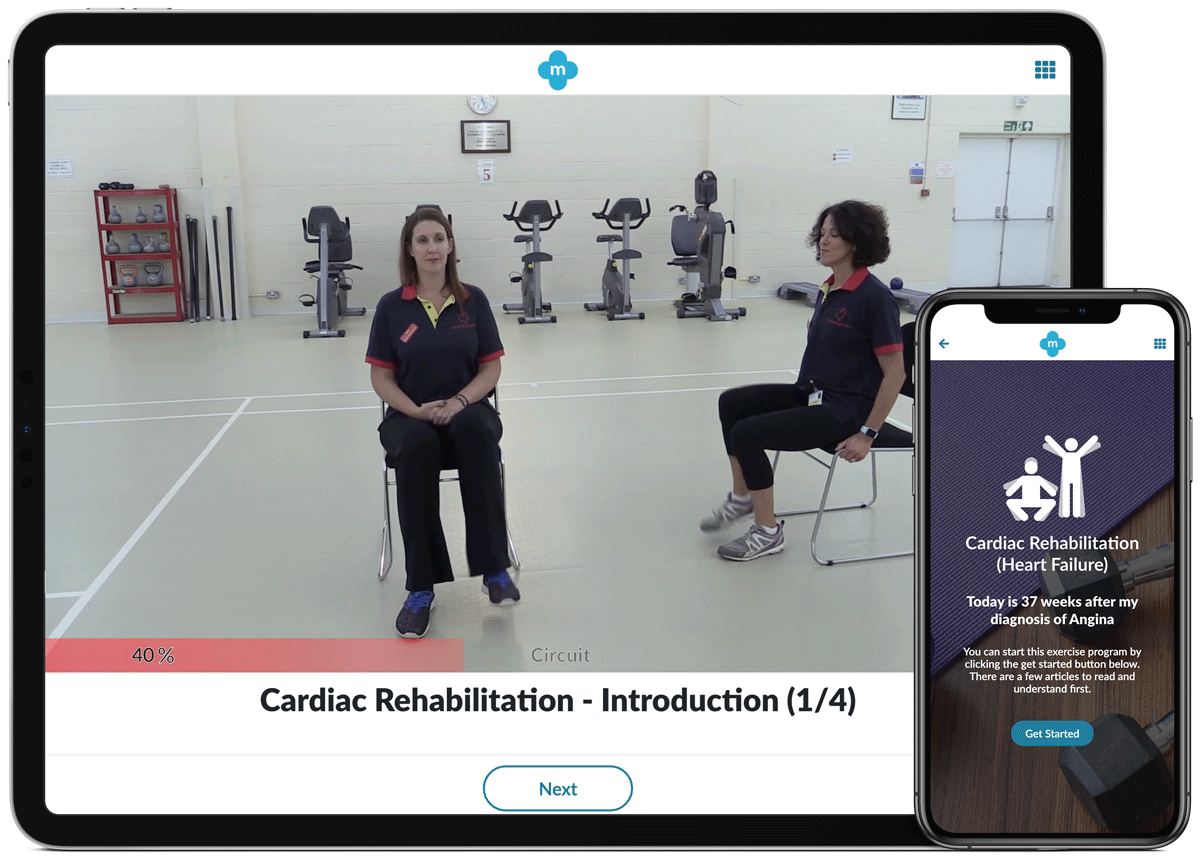 Online patient education courses
Our online education courses, such as the QISMET accredited course in myDiabetes not only reduces the need for car journeys to health services, but can also reduce paper waste. Your patients will learn all they need to manage their condition, without leaving their home.
Remote elective surgery prehabilitation
With Covid-19 leading to huge waiting lists and a backlog of elective surgery, it's more important than ever that we find ways to reduce complications and length of stay in hospitals, and our latest app, myOp aims to do just that.
Delivering a 'Net Zero' National Health Service
Understanding the link between climate change and human health, in October 2020, the NHS became the first healthcare provider in the world to commit to delivering a net zero national health system. This means improving healthcare while reducing harmful carbon emissions, and investing in efforts that remove greenhouse gases from the atmosphere.
We support the "For a Greener NHS" campaign and can help you achieve this important goal.
CONTACT US
Request a free demo or find out more
Contact us today
Call us on 01202 299 583
Open 8 am to 5 pm, Monday to Friday (except bank holidays)