Kent and Medway CCG, in partnership with Paula Carr Diabetes Trust are offering FREE access to myDiabetes for people living with Type 2 Diabetes in Kent.
Accredited Diabetes Education. Powerful self-management tools. Personalised Targets.
myDiabetes is a fully-featured, NICE-aligned platform that provides expert advice, structured education, nutritional guidance and exercise programs, With blood glucose monitors, linked via Bluetooth, and the ability to build a personalised set of targets, myDiabetes helps people control their condition. Clinicians receive unrivalled access to remote care, patient management, reports and monitoring tools that makes caring for patients faster, easier, cost-effective and ultimately more rewarding.
For Patients
myDiabetes brings you the most comprehensive, user-friendly and intuitive diabetes app available on any device. Created by diabetes experts, myDiabetes puts you in control like never before. By entering your data and working more closely with your clinical team, myDiabetes enables you to build a bespoke individualised treatment plan, optimising your control and minimising the risk factors associated with developing the complications associated with diabetes.
Activity Diary
This new feature enables patients and clinical teams to automatically track in-app activity such as DM:Fit and walking videos. The diary also enables patients to manually record their daily physical activity such as steps, cardio training, swimming, cycling or record their attendance at face-face classes.
Patient activity can be viewed in the clinician app, so you can see all their online and offline activity in one place, detailing:
Frequency
Intensity
Type
Time
DM:Fit™ Fitness and Nutrition Program
DM:Fit™ is my mhealth's exercise and nutrition program. Spread over a 12-week period, DM:Fit™ provides you with a specific program for type 2 diabetics that's designed to control blood sugar, cholesterol, HbA1C and weight and can be completed at home.
Diabetes Educational Course
Our diabetes education course delivers structured education directly to you. Accredited by QISMET, our course offers support to your current educational program or provides you with a convenient alternative.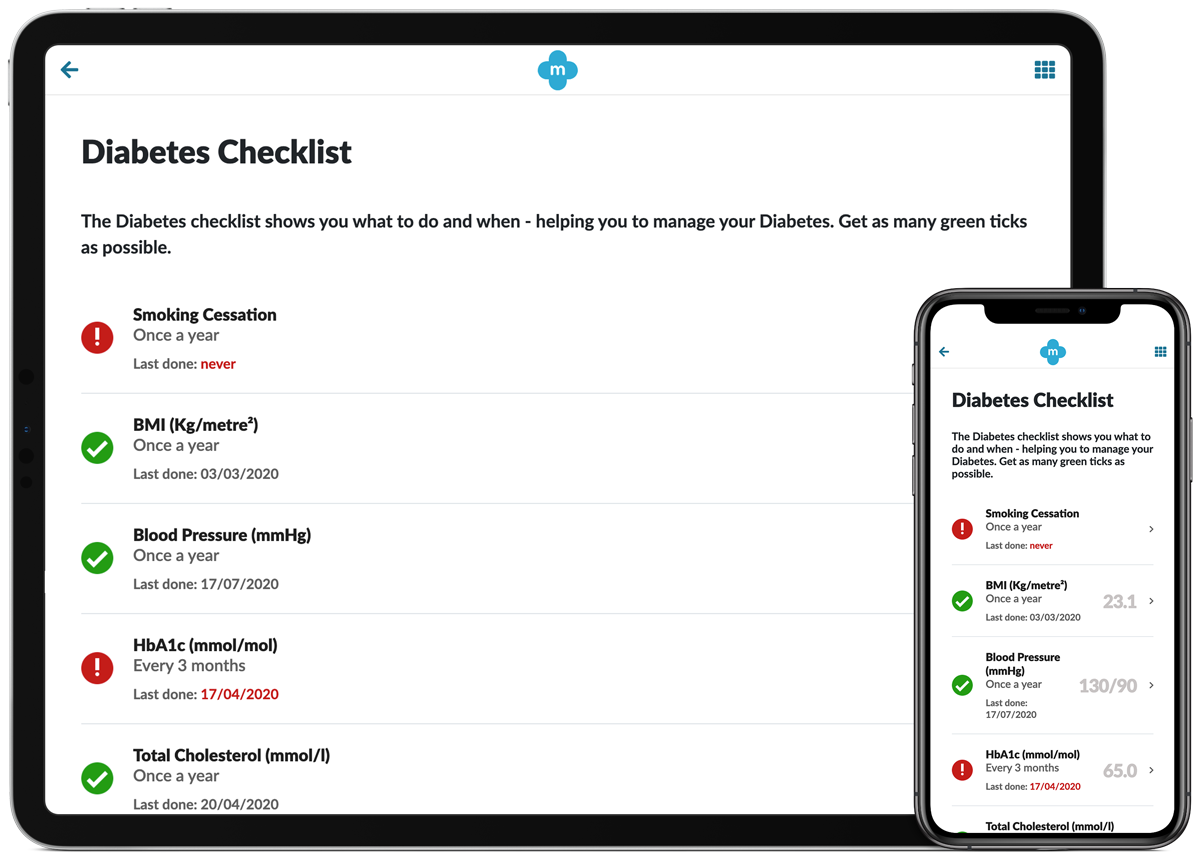 Diabetes checklist
There are several important checks you need to make sure your diabetes is well controlled, and to reduce your risk of long-term complications. The diabetes checklist allows you to keep track of these.
Targets
Every person with diabetes is treated as an individual, and as such, every person with diabetes will have individualised targets.
Monitor and manage your blood glucose and HbA1c
Controlling your blood sugar is the most important part of managing your diabetes. See how well you are performing against targets.
Reports
Keep track of your health by monitoring cholesterol levels, blood pressure, kidney health, medication and much more.
Eyes, kidney and foot care
Diabetes can damage your eyesight, kidneys and feet. It is important that you have these examined at least once a year. Learn more about how you can prevent long term complications with myDiabetes.
Messages
Messages inform you if your clinician has made any changes to your patient account or has sent you a message.) You will also receive notifications from the app about your Diabetes control.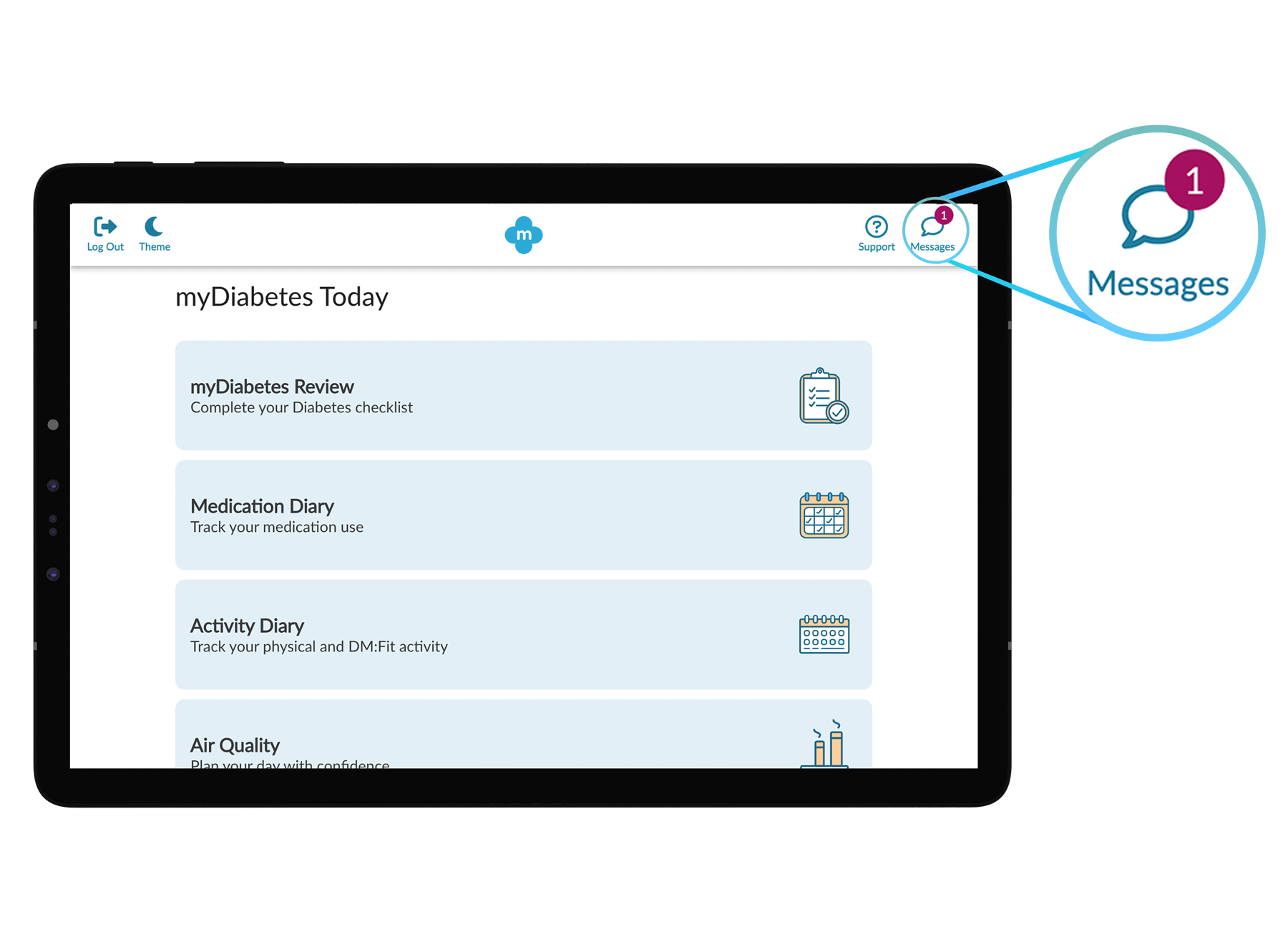 Bluetooth connectivity
my mhealth are constantly working to make monitoring your condition even easier. myDiabetes now connects to several Bluetooth devices including:
Omron Blood pressure monitor
Omron Scales to measure your weight and Body Mass Index (BMI)
GlucoRX Nexus Blue and Agamatrix Kronos to monitor your blood glucose levels.
For Clinicians
myDiabetes was developed to help you manage individual patients and your entire patient population, allowing you to prioritise those who need support or interventions. Select an individual patient to see if they're meeting their targets, to view their latest reports and to update their treatment.
Patient list
The patient list shows you which patients are under your care, who needs a particular diabetes check, and when. Helping you to prioritise your resources accordingly.
Patients results
This list allows you to view the latest results from your patients and prioritise those most at need. For example, focus on patients with the highest HbA1C and BMI.
Patient profile
The profile page allows you to view at a glance individual patients checklists, targets, medication and demographics. From this page, you can access the complete set of patient reports, change medication and contact the patient.
Target setting
Remotely set targets for individual patients. All changes from the clinician interface update the patient's app, instantly.
Send messages or notifications
Send messages to individual patients, identified patient groups or broadcast health messages to your entire list for free. Also, feel reassured that any changes you make to the patient record e.g. change of medication – will be instantly updated for the patient and they will receive a notification telling them of the change.
PRICING
Simple, cost-effective and affordable subscription plans.
We'll tailor your subscription plan to suit you. So whether you're a CCG that needs to distribute myDiabetes at a population-scale, or you're a community diabetes clinic supporting a smaller number of patients, we can help you.
Our friendly sales team will walk you through all the options. And when your new digital service has launched our digital health advisers can support you and your patients. Saving you time and money.
We've already helped hundreds of health services and thousands of patients. Read how we rolled-out myDiabetes to over 100,000 people in Kent.