myOp: Get fit for surgery.
myOp is the new app built by surgical experts at my mhealth and the University Hospital Southampton that optimises your patients' physical and psychological fitness for surgery.
Optimise fitness. Improve Outcomes. Reduce Costs.
Find out more
An all-in-one solution supporting patients from decision-to-operate to full recovery.
Up to 30% of surgical patients experience some form of complication after surgery, leading to increased healthcare costs and a longer stay in hospital for the patient.
With Covid-19 leading to huge waiting lists and a backlog of elective surgery, it's more important than ever that we find ways to improve efficiency, reduce complications and length of stay.
myOp has been created by experts to empower patients, improve outcomes and reduce complications.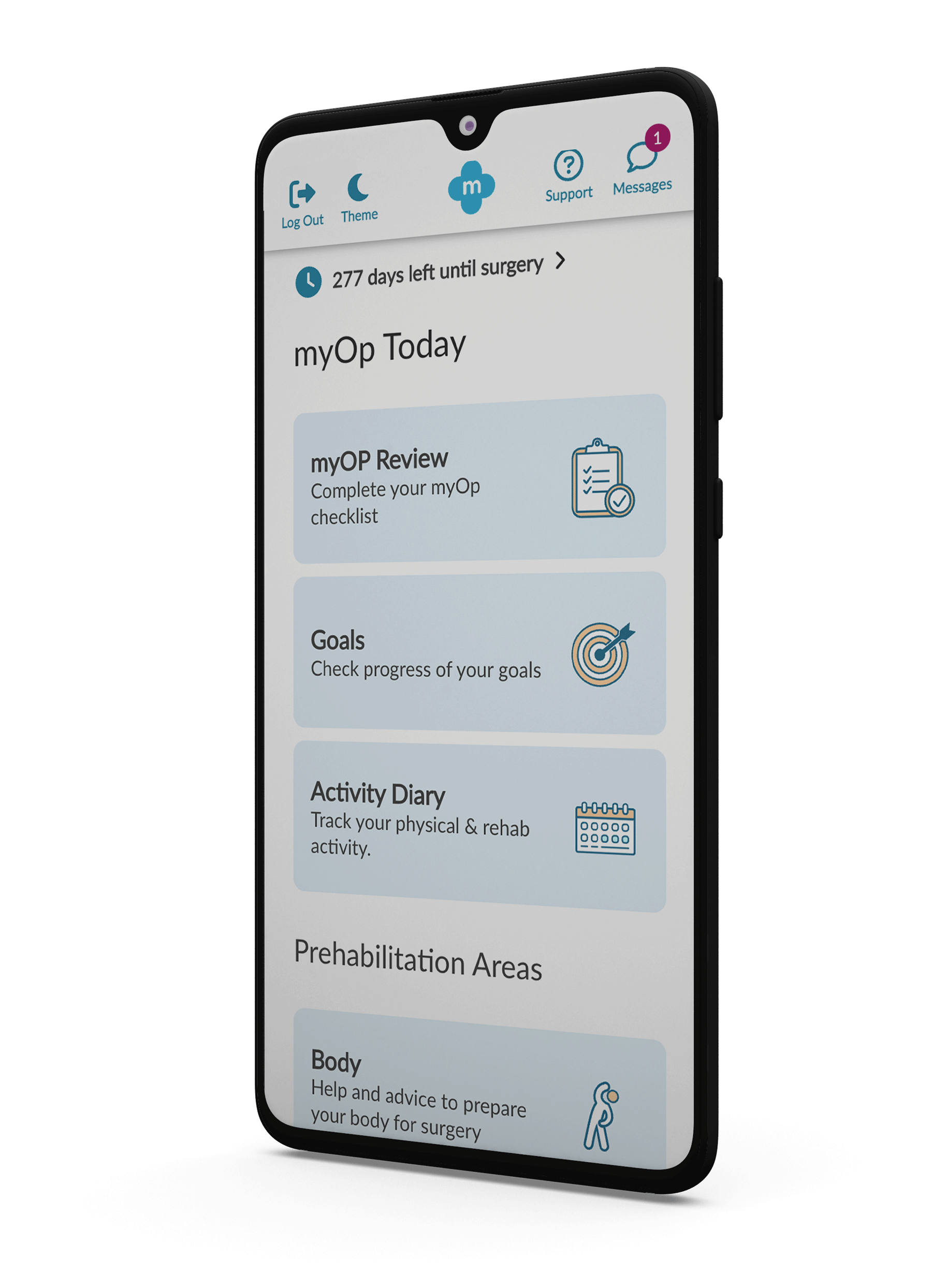 How does it work?
A variety of prehabilitation interventions have been shown to be effective. With some reducing complication rates by up to 50%.
We've carefully selected the most effective, evidence based interventions and combined them with proven behavioural change techniques to produce myOp.
This powerful new App is a universal intervention which gives every patient the tools they need to prepare for surgery and recover faster.
myOp also includes a series of screening tools which clinicians can use to rapidly risk stratify and identify patients at a higher risk of complications. These patients can then be supported with targeted support and interventions.
The NEW model for prehabilitation.
myOp follows the 'NEW' model of prehabilitation (Nutrition, Exercise and Worry/Anxiety), it is broken down into three key areas that help patients prepare.
Body
Patients are shown how to increase their fitness at a level appropriate to them. We teach them "active cycle of breathing" techniques, deliver smoking cessation advice, address issues with alcohol and provide self-management tools for other medical conditions.
Mind
myOp delivers a custom-designed mindfulness-based cognitive therapy (MBCT) course. With educational content and memory aids that support patient's concerns, the Mind section is an invaluable tool that helps patients to prepare properly and recover faster.
Nutrition
The Nutrition section is packed full of videos and content that provide healthy eating advice. Based on the NHS Eat Well Guide, our content complements existing guidance and is enhanced by guided goal setting so patients can optimise their nutrition for surgery.
What the experts say about myOp.
"The perioperative medicine team at University Hospital Southampton are proud to have worked in partnership with my mhealth to develop and launch myOp. The UHS team are actively planning how to embed this App within care pathways, supporting surgical patients and the elective recovery."
Professor Denny Levett PhD, MRCP, FRCA, FFICM
Professor in Perioperative Medicine and Critical Care at the University of Southampton and a Consultant in Perioperative Medicine at Southampton University Hospital NHS Foundation trust (UHS).
"Effective prehabilitation has been shown to reduce complications and improve quality of life. As the health service recovers from the Covid-19 pandemic it is now more important than ever to support and optimise patients pre-operatively leading to better outcomes, reduced complications, shorter hospital stays and improved efficiency in surgical pathways. Prehabilitation and enhanced recovery after surgery should form a key part of current elective recovery plans."
Professor Mike Grocott BSc MBBS MD FRCA FRCP FFICM
Professor of Anaesthesia and Critical Care Medicine at the University of Southampton, consultant in Critical Care Medicine at UHSFT, director-designate of the Southampton NIHR Biomedical Research Centre and an NIHR Senior Investigator. Mike served as vice-president of the Royal College of Anaesthetists and is deputy-chair of the national Centre for Perioperative Care.
The complete prehabilitation solution.
myOp is a complete tool-kit for both patients and clinical teams. Here's a summary of some of the main features.
Actionable insights when they're needed the most.
Utilising tried and tested surveys such as DASI, HADs and our own bespoke nutrition, alcohol and lifestyle questions, you can quickly identify high-risk patients and refer them to early support services such as smoking cessation and CPET for exercise testing.
Targeting of specialist testing and interventions can reduce waste and inefficiency by making sure the patients who need them, get them and giving more time for them to have impact.
Engaged patients = fewer complications.
Fitter, more engaged patients who are less likely to have complications, reduce the costs of surgical care, and increases the success rate for surgical teams.
Our breathing exercises, fitness programme, lifestyle modification techniques, MBCT course, education, memory aids, nutrition optimisation guidance and self-management tools for other conditions combine to reduce the chances of chest infection, reduce the chances of complications and mortality, reduce anxiety and stress, build self-efficacy and reduce the length of hospital stay.
Behavioural change for good.
With so many features we've worked hard to make myOp simple to navigate. And with built-in behavioural change techniques your patients will be fit for surgery in no time.
The checklist is an at-a-glance summary of the actions a patient is required to complete over a set period. And with timely notifications when an action is due, patients will always know what their next best action should be.
And that's not all. Patients can build a personalised set of goals to help motivate their preparation for surgery, further enhancing engagement levels with the programme and decreasing the chance of complications.
Device agnostic. Accessible and easy to use.
Adhering to the standards for accessibility defined in the Web Content Acessibility Guidelines (WCAG) 2.1 and written in easy-to-follow, jargon-free plain English, myOp has been designed from the ground-up to be easy to use for everyone, no matter their ability.
myOp is available on all modern iOS and Android smartphones and tablets and is also accessible via any modern web browser on a laptop or desktop computer.