How the system works
Covid-19 Virtual Ward (CVW) has been designed by respiratory experts. Our two-way, clinician-to-patient, patient-to-clinician, remote health-management system has been tried and tested by patients with COPD, diabetes, heart disease and asthma. And now we're using that operational and clinical expertise to help healthcare providers manage their patient population at this time of crisis. The virtual ward app also integrates with our other condition apps to enable patients to be managed alongside their entire long-term condition pathway.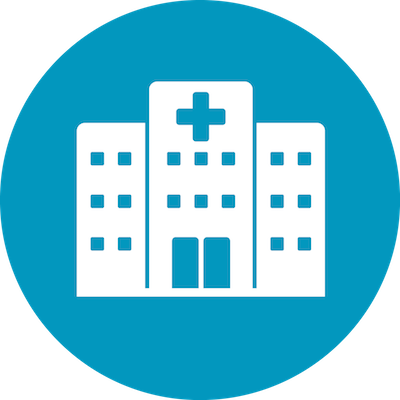 We create provider account
Clinics, GP practices, hospitals...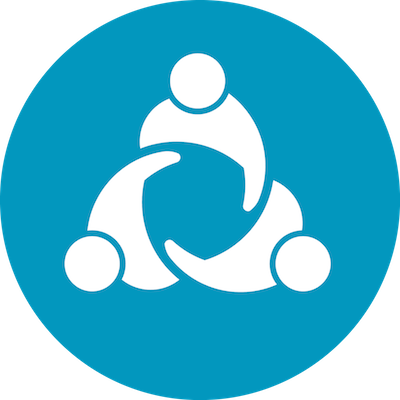 Provider registers patients with app and provides pulse oximeter
Automatic email invites sent direct to patients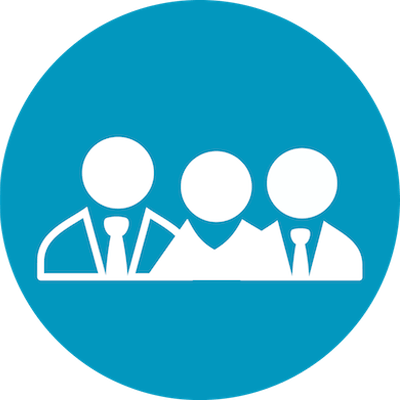 Patient Activates Account
No waiting, no delays, instant access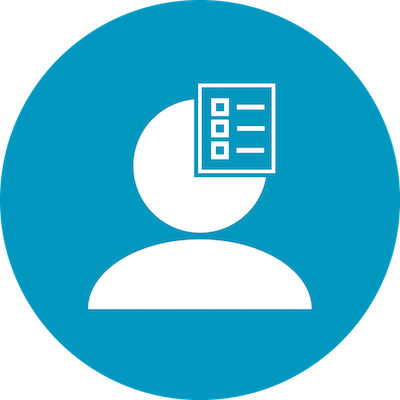 Patient self-reports
Twice daily, you see instant results
For Patients
Covid-19 Virtual Ward is for patients suspected to be suffering from or diagnosed with coronavirus. By answering a few questions and recording a few measurements twice a day - cough, wellness, breathing, pulse, temperature and oxygen levels (using an oximeter) - we use a clinically recognised scoring algorithm to assist patients being managed in a virtual environment to be cared for remotely by their clinical team.
Official Advice
All the latest official coronavirus advice from the UK governments Chief Medical Officer and Chief Science Officer.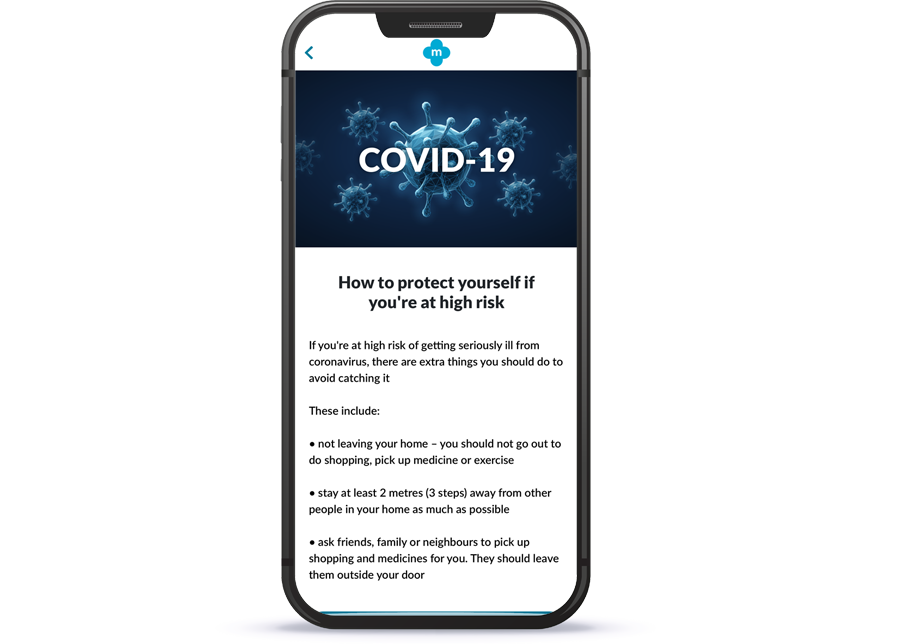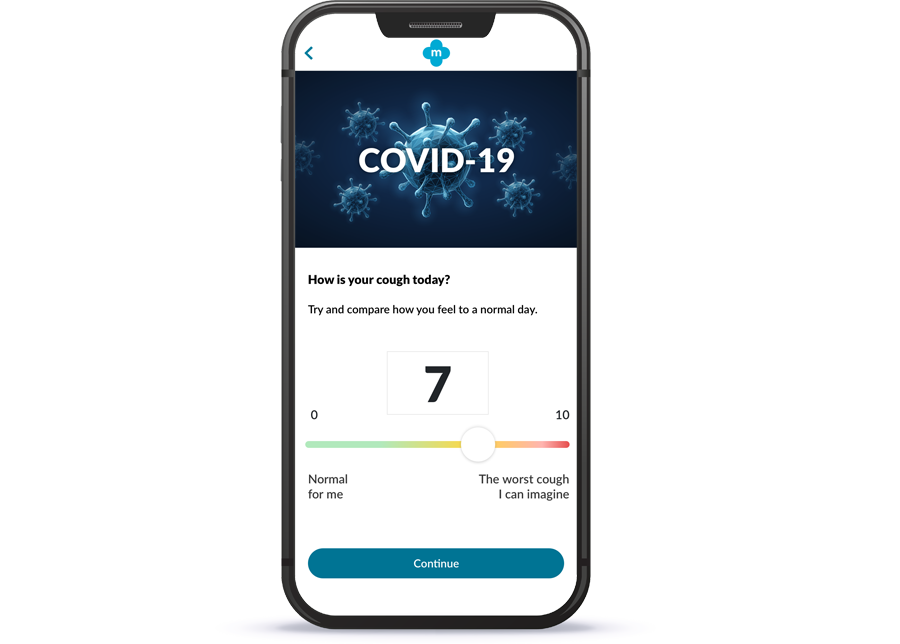 Symptom Reporting
Instantly report your symptoms to clinical teams who will monitor changes in your health, taking pressure off the NHS and helping you stay safe.
Timely Support
Your clinical team will be monitoring your condition based on the symptoms and readings you enter.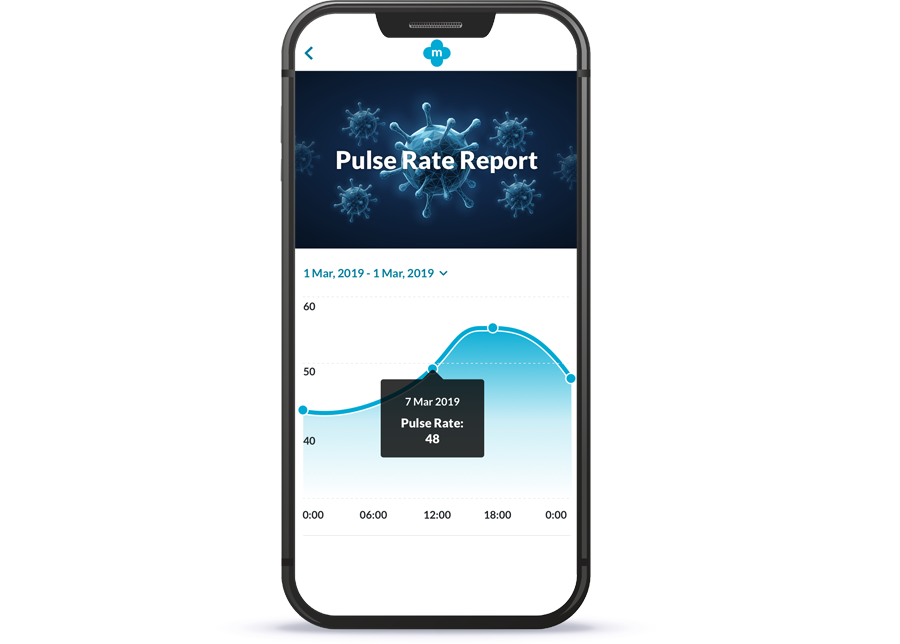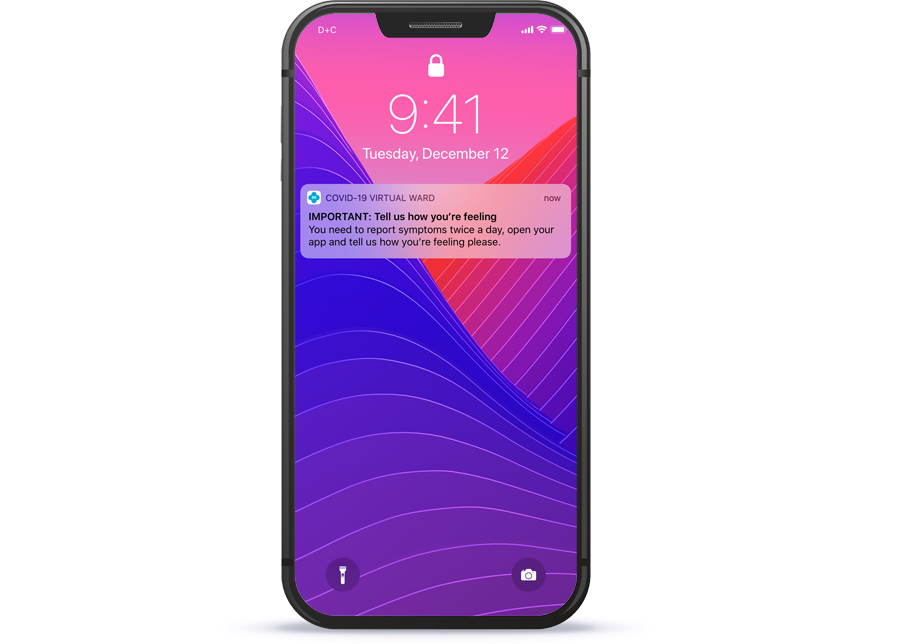 Reminders
Every time we need to record your symptoms, we'll let you know.
Secure Messages
Your clinical team can send you messages directly via your app.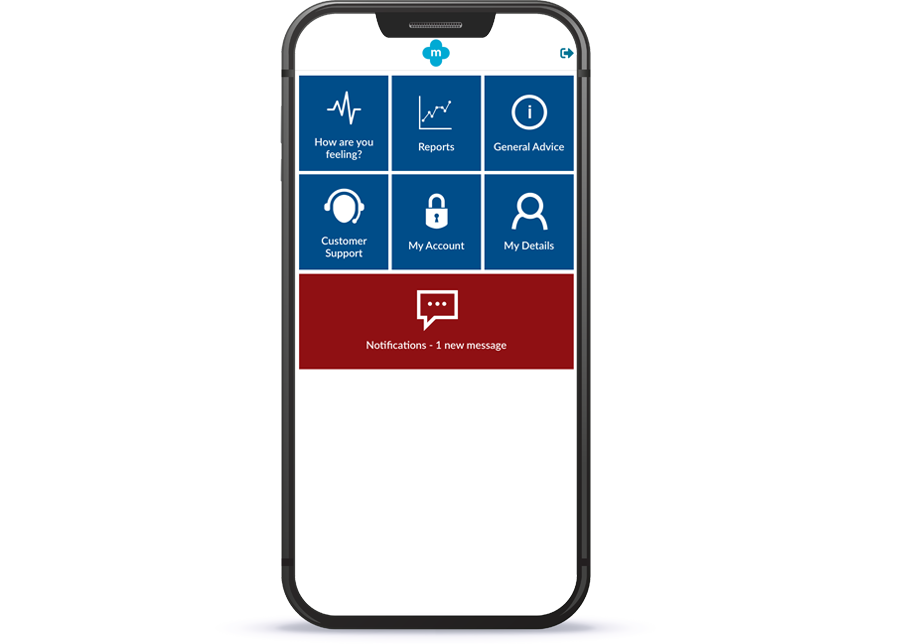 For Clinicians
Covid-19 Virtual Ward enables you to deliver the very best in patient management, symptom analysis and patient communication on any computer, smartphone or tablet. Enabling you to manage your patients remotely. At scale.
Manage your patient population
The patient dashboard shows you all the patients under your care, their current symptoms, oxygen saturations, pulse rate and mNEWS score. Order patients according to priority or use the search tool to find your patients instantly.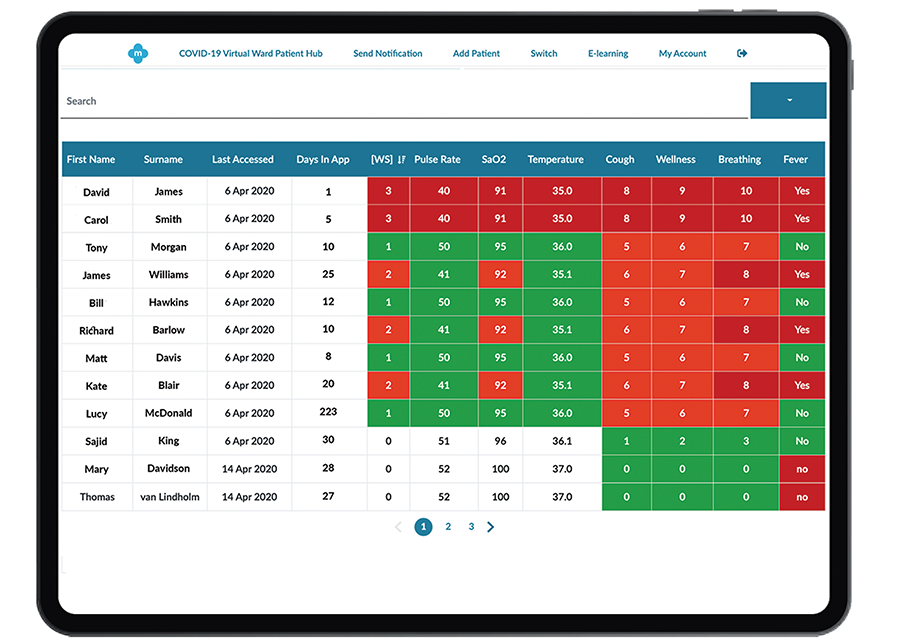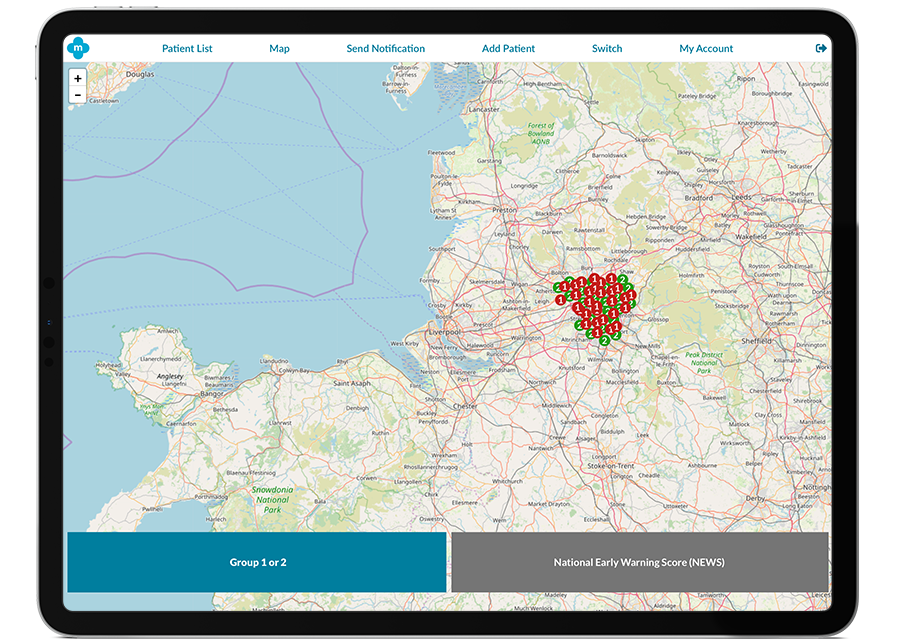 Improved health care efficiency
View your patients on the local geography using the map function, enabling you to manage your community efficiently prioritising patients most at need. Locate and view your patient's profile either using the clinical dashboard or via map function.
Patient profile
Instantly view key aspects of your patients Covid-19 profile, track their symptoms over time, update their details and send them messages.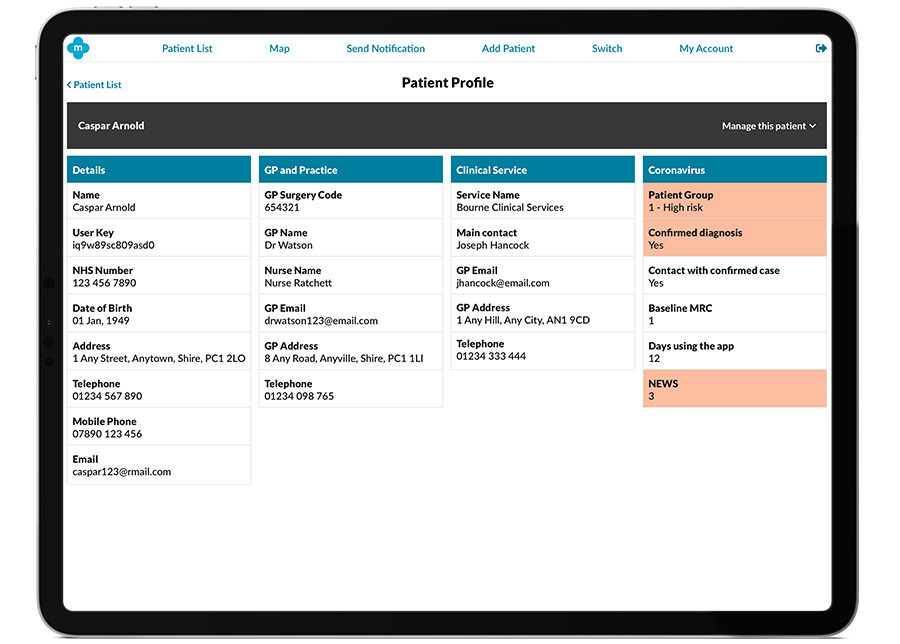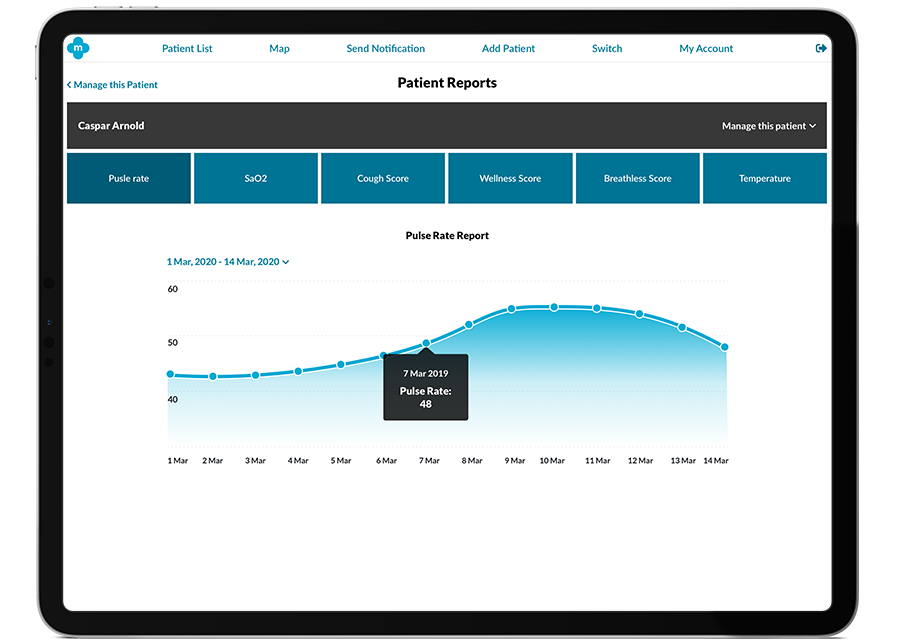 Real-time patient symptom, oxygen saturation and pulse rate tracking
The patient's profile allows you to track their symptoms and physiology over time, making it easy to see changes and to decide when a patient needs extra support.
Send messages or notifications
Send messages to individual patients, identified patient groups or broadcast health messages to your patients for free. Also, any changes you make to the patient record will be sent automatically to your patient in their app, instantly.