Data, insights and digital therapeutics for the pharma and life science industry
We work with some of the biggest pharmaceutical and life science companies on research and treatments for COPD, heart disease, asthma, cancer and diabetes. The my mhealth platform enables remote patient data capture to support clinical development, research, real-world evidence gathering, predictive algorithms, medication optimisation and the development of innovative drug/device combinations.
Find out more
Co-morbidity digital therapeutics that unlocks patient data for life science and pharmaceutical companies
Our portfolio of population-scale digital therapeutics generates big data and insights for clinical research.
Real-world evidence
We capture hundreds of thousands of data points such as symptoms, healthcare utilisation, prescriptions and adherence, exacerbation events, PROMs (e.g. CAT/ACT scores) and smoking pack years to build a highly detailed, deeply phenotyped data set that can be used to generate real-world evidence.
Digital phenotyping
Our platform records individual-level phenotypes at home using patient entered data and Bluetooth connected personal digital devices. For example, in COPD we can categorise phenotype according to GOLD, prescription, and presence of eosinophils/reversibility etc. and run novel algorithms to predict risk of exacerbation.
Medication adherence
We track and report medication adherence using patient entered data or connected devices on a daily basis for hundreds of different types of medication. And with EHR integration, prescription assessments and compliance with NICE guidelines, the my mhealth platform can provide insights on medication usage like never before.
Clinical trial recruitment
All our patients have pre-consented to be approached about their willingness to take part in trials as part of our onboarding process. We'll review the initial protocol exclusion/inclusion criteria against a cohort profile and once defined and approved by ethics we can enrich the data through connected devices, electronic health records and patient communication to assist with rapid recruitment strategies.
Digital companion products
We've partnered with pharma companies such as Astra Zeneca and Boehringer Ingelheim to develop drug device combinations and companion digital products. For example, the Astra Zeneca Turbu+ is a Bluetooth enabled device that connects to a Symbicort inhaler and tracks doses, corrects usage and measures adherence via data streamed directly to our app. Our list of connected devices is growing, and we have in-house engineering expertise to connect any medical device to our platform.
A secure platform to access complex data sets of de-identified and anonymised patient data.
After many years of working with the NHS, and under a rigorous information governance framework, we've generated large sets of de-identified and anonymised patient data. This includes information on prescriptions, diagnoses, symptoms, phenotypes, observations and outcomes. When combined with our machine learning expertise, we can understand and predict symptoms and provide actionable insights.
myCOPD
Our largest patient dataset includes the phenotyped data of COPD patients across the UK. The myCOPD app has a highly engaged and active user group who are motivated to enter symptoms, medication usage, CAT, spirometry, peak flow, eMRC and other readings on a regular basis.
myHeart
myHeart supports nine different cardiac conditions and surgeries including: heart failure, heart attack, angina, post PCI, valve replacement, valve repair, CABG and valvular heart disease.
myDiabetes
Supporting patients with Type 1 and Type 2 diabetes, myDiabetes connects with blood glucose monitors via Bluetooth and uses behavioural modification techniques to maximise patient data.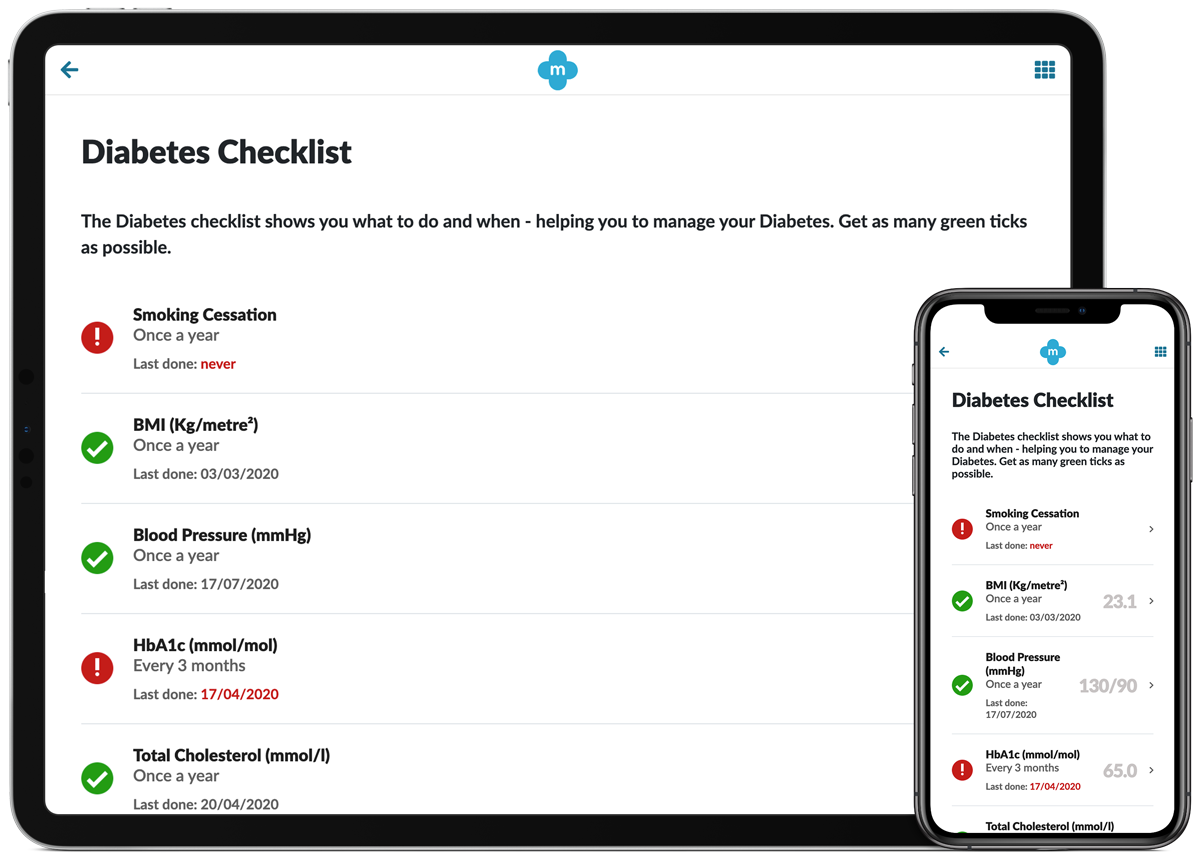 myAsthma
myAsthma helps patients to manage their asthma. The app intelligently deliver better outcomes by analysing symptoms.
myRX
Designed in collaboration with AstraZeneca for patients and clinicians, the myRX app has been created to support both people with cancer and their carers by focussing on monitoring and supporting well-being, education and the relationship between patients and their clinical teams.
CASE STUDY
AstraZeneca and my mhealth launch HAYA - the integrated oncology care management platform.
HAYA is a new integrated oncology care management platform for patients, clinicians and care centres developed in a partnership between AstraZeneca and my mhealth. HAYA enhances the delivery of care and improve the outcomes of patients with cancer using digital health as a conduit for the remote management and monitoring of cancer therapies.
HAYA through a single interface combines telemonitoring, teleconsultation and personalised support to give patients easier access to care and to help hospitals manage resources. For patients the app enables them to remotely report their symptoms and observations directly to their clinical teams and feel empowered with an individualised set of digital tools and accessible educational material.